About Us

Jeff Leininger started building large-scale costumes over 8 years ago as a hobby and with his 12 years experience in high-end composites has been able to build giant robot costumes that are flexible, lightweight and durable. It's hard to believe there is someone inside the robot operating it, but it's true this is a costume.
Jeff has worked in the Theme Park Construction business for the past 12 years as a project manager. Fabricating of themed elements for company's like Walt Disney World, Universal Studios, Six Flags, Paramount Parks and Theme Parks Worldwide. Jeff is also the President (Eastern Division) of the Themed Entertainment Association
www.themeit.com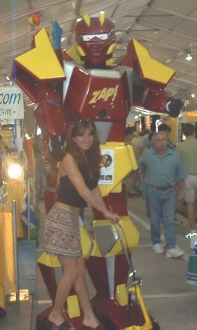 Frequently Asked Questions
Q: Are the costumes heavy?
A: The costumes weight between 35 and 70 pounds. They are built using the lightest, but strongest composites and the weight is evenly distributed over the body like a knight in a suit of armor.
Q: What kind of person can wear these robots?
A: You must be in good physical shape and a good costume performer. 5' 7" to 6' 2" tall and a waist no larger than 36 inches. Experience walking on drywall stilts is needed for costumes over 8ft. tall.
Q: How long does a performer last in one of the robots.
A: (Indoors) 1.5 hours in the 10ft. larger robots and 3 hours in the 7ft. robots. (Outdoors) Depends the weather and conditions. It takes 15 minutes to get dressed.
Q: How long does it take to build one of these robots?
A: All stock robots are built from using existing molds and take no more than 5 weeks. Custom designed robots can take up to 8 weeks.
Q: What do the rentals come with?
A: We handle everything. Robot, transportation, performers, setup and attracting attention. You just pay the invoice.
Q: What is the common rental format?
A: The customer is only charged for time the robot is working the floor. Normally during a 8 hour show the robot is working about 5-6 hours of it. The customer can pick peak hours they want the robot to perform.
Q: Do you rent outside the Florida area?
A: The rental costs are the same, but the customer must pickup the travel costs. Airfare for two, lodging, ground transportation, shipping of road case. 20% markup on these items to cover extra expenses.